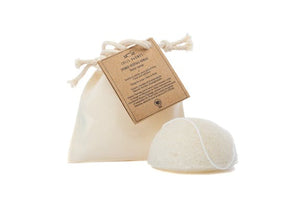 Jolis Baumes - Natural Konjac Sponge
Regular price
£8.99
£0.00
Unit price
per
Tax included.
Description
 The Japanese Konjac sponge is completely natural and plant-based so compostable and part of a zero waste approach. 
Providing  light exfoliation with each use it uses gentle massage to activate the microcirculation of your skin, thus providing more radiance and clarity.
It allows cleaning and makeup removal, and can be used with or without soap.

It can also be used on the body or even very lightly moistened to apply balms or foundation.

Use :
Moisten the sponge (the first time you use it, you can leave it in lukewarm water for 5 minutes, until it fully rehydrates).
Then wring out the sponge, taking a little soap if you wish. Gently massage your face using light circular motions. Rinse.
To take care of your new friend, you should rinse it well, wring it out (without twisting it) and hang it up after each use. Its lifespan will therefore be two to three months, for morning and evening use.

Properties:
Cleanses deeply, removing impurities, preventing the pores of the skin from clogging.
Gently exfoliates, without damaging the skin
Naturally antibacterial, it fights effectively against small pimples and is beneficial for acne-prone skin (ideally combined with soap n ° 6 CEDAR)
Activates the blood microcirculation, thus offering more radiance and tone, by promoting cell renewal.
For use on the face and body (especially after hair removal, to prevent the appearance of small spots).

Composition:
100% Konjac, a plant from South Asia.
Without preservatives, without micro-plastics, without dyes. No toxic additions, simply natural, vegetable and compostable.

Presented in a lovely organic cotton bag, with a recycled kraft paper label. Packaged by hand in  France.
---